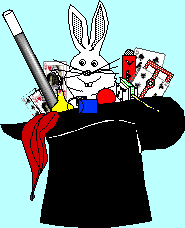 Magic By Kel

---

Article originally appeared
in the Akron Beacon Journal (c) 1973
A Cuyahoga Falls youth has the magic touch.
Kelly Hess, seventh grader at Sill Junior High, is an associate member of Ring 161, International Brotherhood of Magicians. At 12, he
is the youngest member. He needs to be 14 before becoming eligible for full membership.
Kelly started doing magic for the fun of it when he was 9. He began doing shows last Christmas. He has performed at Richardson and
Weaver schools and many private shows and birthday parties.
He will be in Ravenna Friday to entertain foster children at First United Methodist Church. Christmas parties will keep him in
practice. He specializes in children's shows.
The magician is the son of Don and Pat Hess, 2111 Schubert st., Cuyahoga Falls.
Along with ropes, balls and other magical paraphernalia, Kelly has a business card which proclaims: "Magic by Kel, Have Rabbit, Will
Travel. No Dirty Tricks."

See the ORIGINAL article, click HERE
---

Article originally appeared
in the Akron Beacon Journal (c) 1974
Kelly Hess stuffed a piece of silk into a small cannon.
A small explosion and a flash of light later, Kelly pulled the silk out of a cola bottle, to the enjoyment of an audience of 20.
Kelly is 12 years old, the youngest of a stable of magicians performing nightly at the Magic Cellar, 53 E. Exchange st.
"It's not magic, it's prestidigitation," insisted the seventh grader at Sill Junior High in Cuyahoga Falls. Prestiditation (sic) is a
fancy work for magic.
The son of mr. and Mrs. Donald Hess, 2111 Schubert st, in the Falls, Kelly realized what every magician does — the tricks aren't
enough. He must be an entertainer, keeping up a constant patter throughout the tricks.
Handling a rope named Sam, Kelly's routine is deceptively simple:
"Now, Sam, I want you to stand up straight." Sam obeys.
"OK, Sam, now let's fall to the right." Sam falls to the left. Kelly straightens Sam up.
"All right, if you want to do it that way, fall to the left." Sams falls to the right.
After milking all he can out of Sam's recalcitrance, Kelly goes on to other tricks, performed with equipment he made — coin and card
tricks, and a maddening little box with three switches and a light.
If a 12 year old ever walks up to you and tells you to turn on a light in a little box, don't try. Only Kelly knows the right sequence
of switches.
Kelly has been doing magic for two years, but the past year has seen the real blossoming of his talent, nudged along by the Magic
Cellar's older, more experienced magicians — Dan Blubaugh, William Hollen, John Butorac, Paul Dauber, Dave Dillon, Jerry Mirman and
Joe Bolen.
The went public with their assorted collection of sleight of hand, illusion and mental tricks in January, when they bought the old P &
J Underground bar on Exchange.
Although beer and pizza are served, magic is the attraction.
"We're not really operating a bar here," Hollen said. "We saw the need for a place where local talent could develop. It's working out
pretty well so far."
The club has stage shows every other Saturday, an open night for anyone who wants to try a little magic Wednesday night, and the rest
of the nights are give to close-up magic, wherein the house magicians roam from table to table doing tricks under patrons' noses.
See the ORIGINAL article, click HERE
---

Article originally appeared
in the Akron Beacon Journal (c) 1974
Twelve-year-old Kelly Hess, of Cuyahoga Falls, is impressing magic fans regularly with his performances at a downtown Akron club. He's
the youngest of a stable of magicians at the Magic Cellar on E. Exchange st. He not only pulls rabbits our of hats but he also keeps
up a constant stream of lively patter. Story on Page D-1.
See the ORIGINAL article, click HERE
---

Article originally appeared
in the Hudson Times (c) 1976
Look what happens when you read our classifieds. Petite Judie Connor, 17, answered an ad in
the Hudson Times and has become assistant to Cuyahoga Falls magician Kelly Hess.
Miss Connor, a Hudson High graduate, is a 10-year student of dance and has performed
with the New York City Ballet at Blossom Music Center. She appeared and disappeared
with Hess Sunday, July 18 in an hour of magic entitled "The Mystery of Magic" at the Weathervane Theater, Akron.

See Photo of Girl Cut in two, Click HERE
---

Article originally appeared
in the Cuyahoga Falls News Press (c) 1976
Falls own "Hess the Great" in Weathervane's 'Hour of Magic'
Kel Hess may be only 14, but he has the expertise of a much older performer.
The Falls youth, who lives at 2111 Schubert and will be a ninth grader at Sill Junior High, is a professional magician. He presefts 40 to 50 shows a year, running 15 minutes to an hour or more.
His audiences vary, from a group of handicapped children to sophisiticated adult viewers. Young Hess uses his show earning to pay for equipment and to save for college. He intends to study electrical engineering at Cincinnati University.
Sunday, July 18, will be a first for Hess and for Weathervane Theater, a magic show, entitled "Hour of Magic." Hess will present "his feats of illusion" at 3 p.m. at Weathervane.
See the ORIGINAL article, click HERE
---

Article originally appeared
in the Akron Beacon Journal (c) 1979
Pops Salutes Falls Musicals
Magician Kel Hess, a Senior at Falls High, practices cutting the lady in thirds. It will be part of the Pops Concert Show performed by the vocal music department. His assistant, who seems happy about her dismemberment, is his classmate Michelle Cardenas.
…
Also featured is high school senior Kel Hess, a practicing magician, who will saw a girl in half as part of the production of the show tune, "Magic to Do" from "Pippin."
See the ORIGINAL article and PHOTO, click HERE
---
Before the Akron 2009 Winter Carnival,
local NBC TV station WKYC Channel 3
did a live promo from the Carnival
where Kel had his 15 seconds of "On Air Fame" !
Click
HERE to see the video clip
---